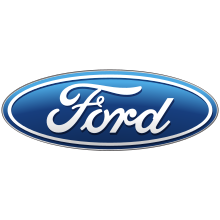 Ford Contract Hire Offers from OVL Group Ltd
OVL Group Ltd have secured some of the best contract hire deals for Ford.
Ford Motor Company is an American multinational automaker based in Dearborn, Michigan, a suburb of Detroit. The automaker was founded by Henry Ford and incorporated on June 16, 1903. In addition to the Ford and Lincoln brands, Ford owns a small stake in Mazda in Japan and Aston Martin in the UK. Ford's former UK subsidiaries Jaguar and Land Rover were sold to Tata Motors of India in March 2008. In 2010 Ford sold Volvo to Geely Automobile. Ford discontinued the Mercury brand after the 2011 model year. Ford introduced methods for large-scale manufacturing of cars and large-scale management of an industrial workforce using elaborately engineered manufacturing sequences typified by moving assembly lines. Henry Ford's methods came to be known around the world as Fordism by 1914. Ford is the second largest automaker in the U.S. and the fifth-largest in the world based on annual vehicle sales in 2010.
Don't see what you want?
Call now // 01491 615 500 for our best contract hire deal on any make or model.
Or click here for the Van & Commercials Contract Hire Quick Quote Form.
Ford RANGER DIESEL Pick Up Double Cab Limited 1 2.2 TDCi
Business Contract Hire: £241.99 pcm
Business Finance Lease: £0 pcm
The Ford Ranger has been ruthlessly tested in some of the most hostile environments, under extreme temperatures, and across the harshest terrain on earth. The vehicle's also been put to the .... More
Based on Van Leasing over 48 months (6+47) 10,000 mpa
Call Now: 01491 615 500
Ford RANGER DIESEL Pick Up Double Cab Wildtrak 3.2 TDCi 200
Business Contract Hire: £284.99 pcm
Business Finance Lease: £0 pcm
The Ford Ranger has been ruthlessly tested in some of the most hostile environments, under extreme temperatures, and across the harshest terrain on earth. A new line-up of advanced Duratorq diesel .... More
Based on Van Leasing over 48 Months (6+47) 10,000 mpa
Call Now: 01491 615 500
Ford TRANSIT 310 L2 DIESEL FWD 2.0 TDCi 105ps H3 Van
Business Contract Hire: £248.99 pcm
Ford launched the Transit in 1965 and since then, countless businesses have made it their commercial vehicle of choice relying on it's toughness, functionality and reliability. Now, an all-new range .... More
Based on Van Leasing over 48 months (6+47) 10,000 mpa
Call Now: 01491 615 500
Ford TRANSIT 350 L2 DIESEL FWD 2.0 TDCi 105ps Dropside
Business Contract Hire: £273.99 pcm
The Dropside is ideal if you want a cost-effective, professional image for your business. It may be easy to drive, but it's no slouch. Available with Single or Double cab, in FWD or RWD, automatic .... More
Based on Van Leasing over 48 months (6+47) 10,000 mpa
Call Now: 01491 615 500
Ford TRANSIT 350 L3 DIESEL RWD 2.0 TDCi 105ps 'One Stop' D/Cab Tipper [1 Way]
Business Contract Hire: £304.99 pcm
Rugged, powerful and purposeful, the Ford Transit Tipper combines brilliant functionality with clever design and durable construction. Extremely reliable, it can cope with the most adverse site conditions .... More
Based on Van Leasing over 48 months (6+47), 10,000 mpa
Call Now: 01491 615 500
Ford TRANSIT CONNECT 200 L1 DIESEL 1.5 TDCi 100ps Trend Van
Business Contract Hire: £169.99 pcm
Crowned International Van of the Year 2014, the Ford Transit Connect sets new standards for compact vans, by offering class-leading fuel economy, load carrying ability and durability. Tough, practical .... More
Based on Van Leasing over 48 months (6+47) 10,000 mpa
Call Now: 01491 615 500
Ford TRANSIT CONNECT 200 L1 PETROL 1.0 100ps Trend Van
Business Finance Lease: £159.99 pcm
Crowned International Van of the Year 2014, the Ford Transit Connect sets new standards for compact vans, by offering class-leading fuel economy, load carrying ability and durability. Tough, practical .... More
Based on Van Leasing over 48 months (6+47), 10,000 mpa
Call Now: 01491 615 500
Ford TRANSIT COURIER DIESEL 1.5 TDCi Trend Van
Business Contract Hire: £174.99 pcm
The new Ford Transit Courier Capable is reliable and highly fuel-efficient, like every Transit van and comfortable, rewarding to drive and full of smart technology like a Ford car. The van's compact .... More
Based on Van Leasing over 48 months (6+47) 10,000 mpa
Call Now: 01491 615 500
Ford TRANSIT CUSTOM 270 SWB DIESEL FWD 2.0 TDCi 130ps Low Roof Limited Van
Business Contract Hire: £212.99 pcm
The Transit Custom sets the benchmark for efficiency and loadspace, improves your productivity and will make a striking impression on your customers. So it fully merits the prestigious International Van .... More
Based on Van Leasing over 48 months (6+47), 10,000 mpa
Call Now: 01491 615 500
Ford TRANSIT CUSTOM 290 LWB DIESEL FWD 2.0 TDCi 105ps High Roof Trend Van
Business Contract Hire: £223.99 pcm
The all-new Transit Custom sets the benchmark for efficiency and loadspace, improves your productivity and will make a striking impression on your customers. So it fully merits the prestigious International .... More
Based on Van Leasing over 48 months (6+47) 10,000 mpa
Call Now: 01491 615 500
Ford TRANSIT CUSTOM 290 LWB DIESEL FWD 2.0 TDCi 105ps Low Roof D/Cab Trend Van
Business Contract Hire: £229.99 pcm
The all-new Transit Custom sets the benchmark for efficiency and loadspace, improves your productivity and will make a striking impression on your customers. So it fully merits the prestigious International .... More
Based on Van Leasing over 48 months (6+47) 10,000 mpa
Call Now: 01491 615 500
Latest Deals
Citroen
BERLINGO L1 DIESEL 1.6 BlueHDi 625Kg Enterprise 75ps
Contract Hire:
£142.99
pcm
Finance Lease:
£
pcm
Renault
TRAFIC SWB DIESEL SL29 dCi 120 Business+ Low Roof Van
Contract Hire:
£214.99
pcm
Finance Lease:
£
pcm